Miller Commercial Truck and Tractor Rentals
A Rental Truck For All Your Needs And To Suit Every Purpose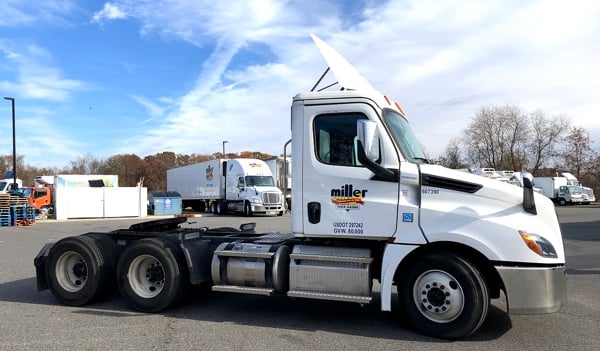 Miller Truck Leasing offers a wide range of daily, weekly and monthly rental trucks and tractors built with safety and fuel efficiency in mind. Regardless of the length of the rental, you will receive the maximum level of response, assurance, and personal assistance.
We understand that changes in your business needs may require extra vehicles, or that an unexpected breakdown may create an immediate need for a rental. Miller is capable of delivering the choices and solutions that our customers need, whenever or however it takes to get you back on track.
Miller's rental fleet has a large inventory of vehicle sizes and specs, to maximize space and provide the most cost efficient rental solution available. For reservations, call 1-888-265-2900.
Expansive Coverage With Certainty Of Service and Support
Miller is a proud member of NationaLease, the largest independent leasing network in North America. This extraordinary coverage gives our clients assurance with over 650 locations within the United States and Canada. All of Miller's rental vehicles are also covered by our 24/7 Road Service program at 1-888-ROAD CALL. Our Rental Sales Representatives can create a solution that will make your transportation needs simple and efficient, helping to keep your business running smoothly.
To reach the Miller Commercial Rental Hotline, Please call 1-888-265-2900
Rental Inquiry Form
---